If a man empties his purse into his head no man can take it from him. An investment in knowledge pays the best interest.
Double Exit
Double Exit is predominantly focused on financial accounting, management accounting and finance. It is a blog/website that will provide a platform for access to relevant materials linked to my lecturing activities, a bookshelf to provide students with a guide to various books/content and a blog for some never to be read posts. There is also a Double Exit YouTube channel where I have all the screencasts related to my lecturing.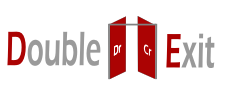 Author
My name is John Nolan and I am a lecturer in Dublin City University Business School where I am currently undertaking a PhD. Prior to that, I completed my chartered accountancy exams and training contract with KPMG Corporate Finance in Dublin. I am a lecturer for professional accountancy exams with Chartered Accountants Ireland and a number of the professional accountancy firms. I have also played a small part in setting up cruncher.ie which is a website set up by a group of people that are passionate about the accounting profession and who want to share good, insightful advice with people thinking about training as accountants.
I always welcome questions from students and please feel free to connect with me using the links below.
Best of luck with your studies,
John